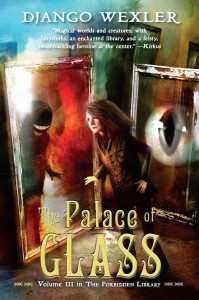 In the spirit of collecting things in one place, I thought I'd talk a bit about what's going on for next year. (I've also collected the things I did last year in my Annual Awards Begging Post.) So here's what's coming up, book-wise. (Please note that release dates, especially far in the future, are always tentative; this is all based on the best information I have as of 1/1/16.)
The Palace of Glass, book three of The Forbidden Library, will be released on April 12. There's more great art from Alexander Jansson, which I'll post some of here as we get closer. You can pre-order now!
The Guns of Empire, book four of The Shadow Campaigns, will be released on August 9. Needless to say I'm very excited about this one, and I'm (still) in the process of working hard on it. And it's also up for preorder!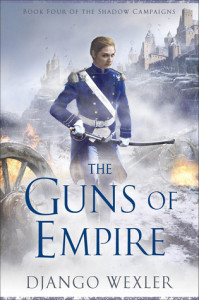 Going forward from there, my next project is Forbidden Library book four. After a great deal of outlines, negotiation, and head-scratching, we've decided that this will be the final book in The Forbidden Library series, meaning there will be four in total instead of five as I'd mentioned earlier. Let me emphasize, though, that this is not going to be a case of me wandering off and leaving a story unfinished; book four will have the conclusion that I'd planned for the series from the beginning. It will release sometime in 2017, although I'm not certain precisely when.
After that comes Shadow Campaigns book five, which is also the end of that series. Those of you who follow me on Twitter know that finishing The Guns of Empire was a bit of a forced march, and book five will be released a little later in the year (probably October, although it's not set yet) in 2017 to make sure there's enough time for everything.
There may, at some point, be a second Shadow Campaigns novella. It fits in roughly between The Shadow of Elysium and The Guns of Empire, but I don't know at present when I'm going to have the time to write it. I'll keep you posted.
After that — unclear! In all probability, something cool and new. I have more stuff I want to write then you can shake a stick at (seriously, IdeasFile.doc is now like thirty pages long) so it's a matter of picking and choosing. Good times ahead!