Short Stories
The Shadow of Elysium
From the author of The Price of Valor, The Shadow Throne, and The Thousand Names comes a new novella set in the world of the Shadow Campaigns—"a world of dust and bayonets and muskets…and magic."*
The wagons travel north across the mountains, carrying cargo of great value: Hamveltai glass and porcelain; Deslandai jewelry in heavy iron strongboxes; fine cloth from the cities of the Old Coast. And Abraham.
Bound and tied, guarded day and night, Abraham has been stolen from his village, from the arms of the man he loved. He is being sent to the fortress-city of Elysium to serve a dark and ancient order, the Priests of the Black. They have discovered the secret he kept all his life: that inside him dwells a demon which allows him to heal…and to kill.
But Abraham is not alone. A young woman named Alex, similarly possessed, rides with him. And as a bond grows between them, they begin to wonder if they can turn the demons that have damned them into their salvation.
This is a novella that follows on from the events of The Penitent Damned. (See below!)
Includes an exclusive preview of The Price of Valor!
---
The Penitent Damned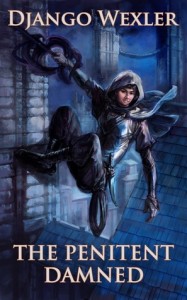 Alex is a master thief, with dark magic to give her an edge. When she goes up against Duke Orlanko's Concordat secret police, though, she may have taken on more than she bargained for…
This is a prequel short story to The Thousand Names of around 20 pages. You can buy it on Amazon for Kindle, download it as a free e-book on GoodReads, or read it on the web at io9.
The cover is by the excellent Nicole Cardiff.